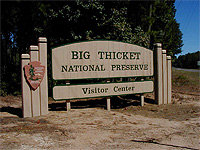 When planning your trip to Ethridge Farm Bed & Breakfast, you'll want to schedule time to visit some of the great attractions found in the Big Thicket area. You'll find everything from historical and natural sites to art, shopping, dining, and even an Indian Reservation.
The Big Thicket National Preserve of Southeast Texas is one of the most popular attractions in the area and is located just down the road from The Farm. The Preserve is home to natural wetlands and hundreds of unique species of wildlife. Bird watching is a favorite activity for many visitors. Hike, bike, and enjoy other fun and educational activities with the new Visitor Center. Canoeing along Village Creek, the Neches River, or through the Big Thicket is one of the most popular activities for visitors. Several area canoe outfitters offer the options of renting you own canoes for the day or signing up for one of their guided tours.
Big Thicket Photo Gallery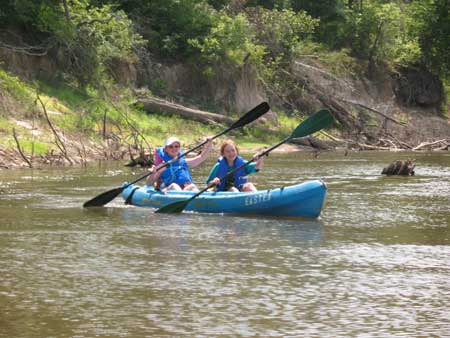 Ethridge Farm is only a short distance from the towns of Kountze, Lumberton, Beaumont, and Silsbee, which offer shopping, dining and other activities.
Several festivals and events are held throughout the year, such as the Antique Car Show, old-fashioned Cane Syrup Making in November, the Dinner Theater, not to mention all of the events in Beaumont.
Beautiful golf courses, gorgeous bicycle trails, horseback riding, bird watching, canoeing, fishing, hunting, and hiking are a few of the activities available for the outdoor enthusiast.
For More Information on canoeing and kayaking see the Texas Kayaking Guide at Inflatable Kayaker.
Local Airport Access – Hawthorne Field is about 5 miles from Ethridge Farm
Area Attractions:
---
Village Creek Paddling Trails (year round)
South Texas State Fair (Sept, Oct – check date)
Bragg Ghost Light Road (a scary evening trip)
The Storage Buildings (weekend garage sale)
Antiques & Vintage Shops (Silsbee,TX)
Knupple Park (hiking & playground)
Neches River Adventures (Boat Tours)
Local Restaurants & Pubs:
---
Mama Jacks Restaurant
Sweet Cheeks Cafe
Mi Pueblo Mexican Restaurant
Joe's Italian Grill Restaurant and Pizza
The Tree Restaurant
Tia Juanita's Fish Camp
10 de Mayo Mexican Restaurant
Going's BBQ and Buffet
Catfish Cabin