Secluded in the pristine beauty of the Big Thicket area, the Historic Blueberry Hill cabin offers a unique opportunity to experience nature and history first-hand. Enjoy the cozy, rustic charm of your own private cabin with the benefits of a B&B.
Blueberry Hill History – Built in the early 1900's as a double log crib-barn, this cabin is one of the oldest structures on the Farm. Throughout the years it has been used to house our cows, sheep, horses, and one try at raising chickens. The chickens were penned in the area that is now the bath. What is now the snack kitchen was once used as a smoke-house. In those days, there were no wooden floors in these sections or in the dog-run down the middle of the crib-barn. When we noticed that some of the logs were rotting and needed to be replaced, we found a man that knew how to jack up a log structure… and the renovation began. The Cabin on Blueberry Hill was born in 2003.
Blueberry Hill Photo Gallery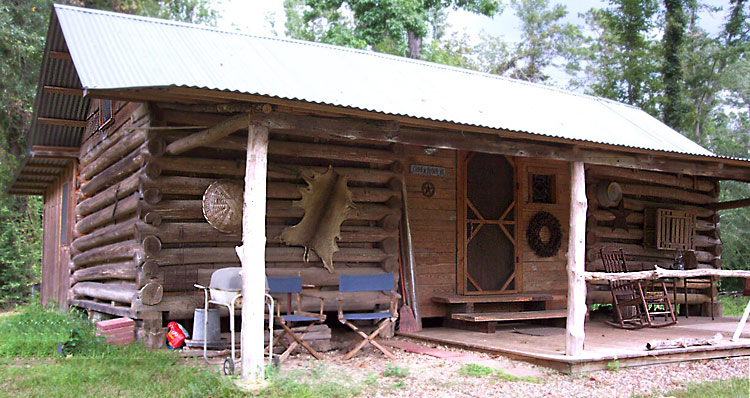 Blueberry Hill Today – The old crib-barn has been restored and modernized to a comfortable cabin beautifully decorated with cowboy memoralbilia and antiques.
$159.00 per night for two people.
Sleeps up to 4 people with 2 bedrooms, one with a king-size bed and the other with 2 twin beds.
Roomy living area includes a comfortable family area with TV, VCR, and DVD player.
Snack kitchen with oak pedestal table and chairs, microwave, refrigerator, and toaster oven.
Private bath with shower, antique sink cabinet, rustic decor, and modern plumbing.
Ceiling fans, air conditioning, and heat.
Front porch with rockers, porch swing, and barbeque grill.
Your stay includes a real Texas home-cooked country breakfast served each morning from 8:00 a.m. to 10:00 p.m. in the Lodge dining room. You'll want to sample the variety of delicious selections available, including homemade Mayhaw jelly and fresh fruits in season.
For an additional charge, you might also like to dine with us for a country dinner served in the Lodge dining room. ($32 Per Person)
Please see our Meals and Amenities section for menus and more information.
Enjoy The Country Life – You can hike out to the woods right from your front door, or you can relax on the front porch with wooden rocking chairs and a porch swing. A great place to curl up with a good book or just listen to the quiet. Be sure to experience the fun of fishing, or picking your own fruit in season. Just part of country life. We like to give you a bag of fruit, which you and your family have picked, as a memory of your visit to The Farm. Fruits may include Mayhaws, Pears, Muscadines, Satsumas, Lemons, Persimmons, Kumquats, and of course, Blueberries.
---
Blueberry Hill Room Rates:
– Each Night with Breakfast for 2 is $159.00
– Additional Guests are $15.00 Each Per Night
– Outdoor Hot Tub on the Deck of the Lodge (Two People):
$30.00 Per Stay
Two or more Nights When Requested in Advance
Minimum 2-night stay requested on weekends and holidays. Five-day cancellation policy.
To hold a reservation, we require a credit card authorization by telephone (Visa, M/C, Discover, or AmEx), or a one-night deposit in advance. Please let us know if you would like to add a dinner or the Outdoor Hot Tub.
If you need additional information, please feel free to contact us. Call us at 409-246-3978.
We are looking forward to your visit to Ethridge Farm Bed and Breakfast. – Ann Ethridge