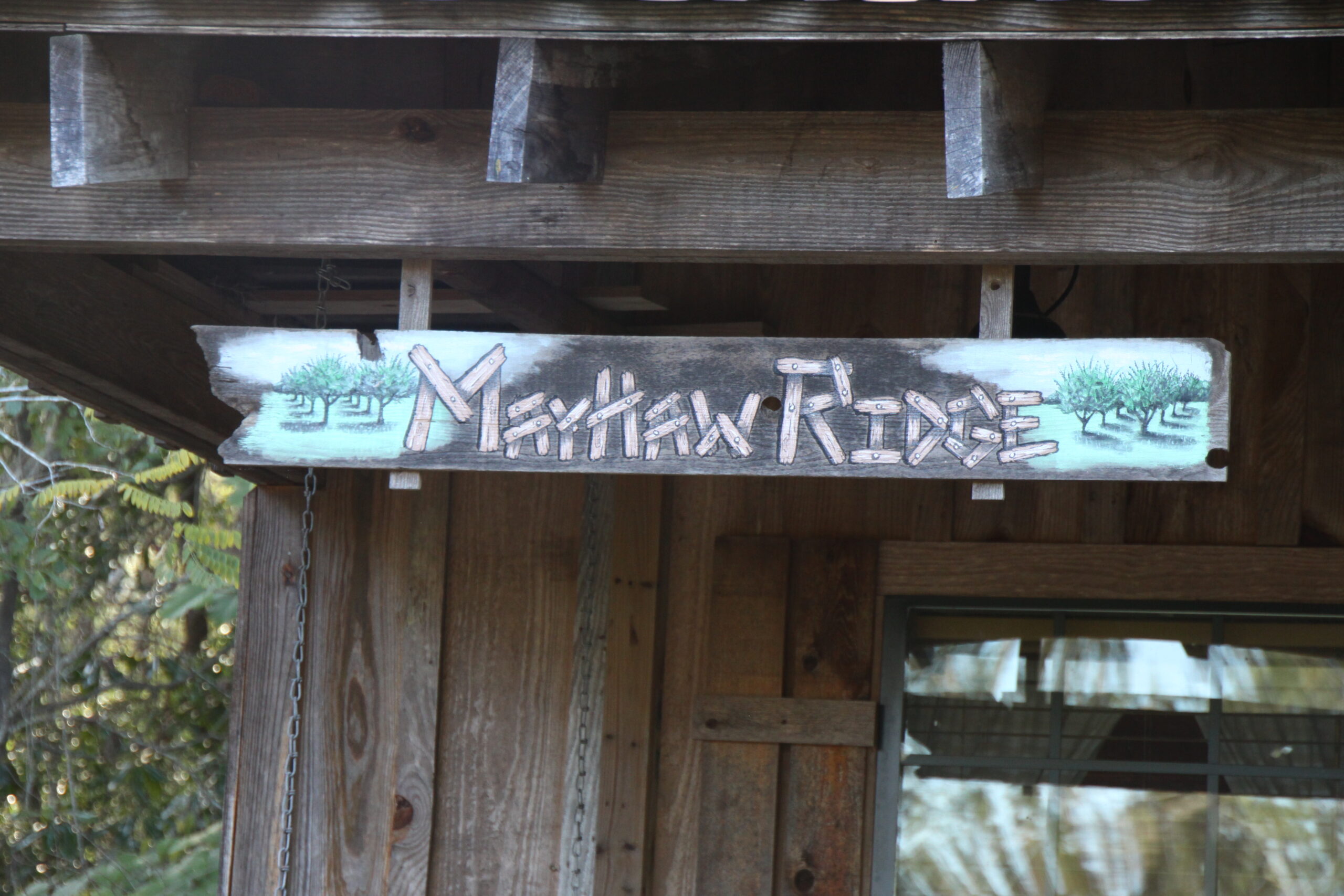 The perfect romantic getaway for two, the Cabin on Mayhaw Ridge was completed in February of 2014, on Valentine's weekend. Built beside the Mayhaw orchard, planted on our high sandy ridge, this cabin is built the old-fashioned way of rough-cut pine, and is a favorite for anniversaries, honeymoons, or just to spend some quality time with the one you love.
Mayhaw Ridge Photo Gallery
The Cabin on Mayhaw Ridge offers the peace and quiet of your own secluded cabin with the benefits of a bed and breakfast. After a walk through the Big Thicket, enjoy an outdoor shower under the stars as well as an indoor shower , and a comfortable bedroom with charming decorations of antiques and country décor. In the evening, you can meander through the orchard, or sit by a campfire and explore the country skies. Maybe see a falling star or a full moon.
$159.00 per night for two people.
King-size bed and comfortable sitting area with two reclining chairs
Roomy living area has a TV and DVD player
Snack kitchen with oak table and chairs, microwave, refrigerator, and toaster oven
Ceiling fans, air conditioning, and heat
Bathroom with indoor shower and marble-top sink cabinet
Private enclosed outdoor shower attached to the bathroom
Front porch with old-fashioned porch swing
Breakfast and More – Many folks in Texas have fond memories of hiking along creek banks in the back woods to hunt the Mayhaw berry. We would seine them, or throw a sheet down under a tree to collect the berries. Sometimes we had to fight the snakes for the reward! A favorite in the south, Mayhaw jelly is always served for breakfast here at Ethridge Farm.
Country Breakfast – Your stay includes a real Texas home-cooked country breakfast served each morning from 8:00 a.m. to 10:00 p.m. in the Lodge dining room. You'll want to sample the variety of delicious selections available, including homemade Mayhaw jelly and fresh fruits in season.
Dinner – For an additional charge, you might also like to dine with us for a country dinner served in the Lodge dining room.($32 Per Person)
Please see our Meals and Amenities section for menus and more information.
Enjoy The Country Life – You might like to take a stroll on our grounds, or enjoy a romantic picnic by the pond. Be sure to experience the fun of fishing, or picking your own fruit in season. Just part of country life! We like to give you a bag of fruit, which you have picked, as a memory of your visit to The Farm. Fruits may include Blueberries, Mayhaws, Pears, Muscadines, Satsumas, Lemons, Persimmons and Kumquats.
---
Cabin on Mayhaw Ridge Room Rates:
– Each Night with Breakfast for 2 is $159.00
– Additional Guests are $15.00 Each Per Night
– Outdoor Hot Tub on the Deck of the Lodge (Two People):
$30.00 Per Stay
Two or more Nights When Requested in Advance
Minimum 2-night stay requested on weekends and holidays. Five-day cancellation policy. If you need additional information, please feel free to contact us. Call us at 409-246-3978.
We are looking forward to your visit to Ethridge Farm Bed and Breakfast. – Ann Ethridge