When you visit Ethridge Farm, breakfast is included with your room package and served each morning in the Lodge dining room.
We also offer optional country dinners in the Lodge and romantic candlelight dinners brought directly to your accommodation.
Choose from a delicious variety of home-cooked dishes made fresh.
Breakfast Menu
Wake up to birds singing and a real Texas country breakfast with your choice of:
Fruit in season
Eggs, Pancakes, or Waffles
Bacon, or Sausage Gravy
Hot Biscuits with Mayhaw jelly
Grits, or Hash browns
Juice, and Coffee
Don't forget to try the Mayhaw jelly – made from the native Mayhaw berry found in Texas and a few Southern states. This is part of the unique experience of visiting the Big Thicket area!
Breakfast is served between 8:00 a.m. and 10:00 a.m. in the beautiful Lodge dining room.
Ethridge Farm Photo Gallery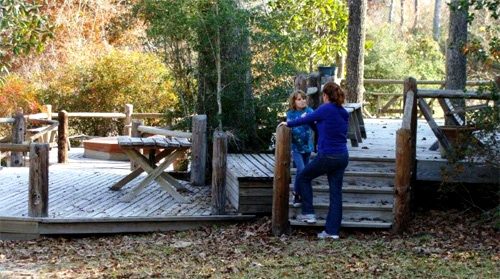 Country Dinner
With advance notice, a delicious country dinner is available for $32.00 per person. Includes your choice of Brisket, Chicken, Pork, or Fish as the entree. Miss Ann will select the rest of the meal depending on what is in season. A salad, starch, vegetables, bread, and dessert are included. If there is a food you cannot eat or something you really want to order, please let us know. You are welcome to bring wine for dinner.
Other Amenities
Be sure to experience the fun of fishing, or picking your own fruit in season. Just part of country life! We like to give you a bag of fruit, which you and your family have picked, as a memory of your visit to The Farm. Fruits may include Blueberries, Mayhaws, Pears, Muscadines, Satsumas, Lemons, Persimmons and Kumquats.
During your stay, you might enjoy strolling on our grounds, walking down the lane, or exploring the nearby woods. Bird watching is a favorite activity on The Farm!
---
Amenities Rates:
– Breakfast Served Each Morning is included with your stay
– Country Dinner Served in the Lodge Dining Room is
$32.00 Per Person
– Outdoor Hot Tub on the Deck of the Lodge (Two People):
– $30.00 per night for a single night
– $15.00 per night for two or more nights when Requested
in Advance
-Pet Fee- $30.00 Per Stay
– Nature, Fishing, and Fresh Air – yours to enjoy!
Ethridge Farm is located near shopping, activities, and local attractions, such as the Big Thicket National Preserve. Please visit our Area Information page to find out more.
Minimum 2-night stay requested on weekends and holidays. Five-day cancellation policy.
If you need additional information, please feel free to contact us. Call us at 409-246-3978.
We are looking forward to your visit to Ethridge Farm Bed and Breakfast. – Ann Ethridge